Last month we executed our Inaugural Carbine Clinic East of the Mississippi!  Not to be outdone by the Nevada crew, the Bedford Contingent was proud to roll out this new offering on December 10-11.
We had about 22 students plus volunteer instructors and volunteer range officers.  Despite the chilly and drizzly weather, the weekend went very well.  This clinic was intended as an intermediate class for students already experienced with our basic class, which let us run a cold range in accordance with the NRA AR Challenge guidelines.  Students got used to slinging up their carbines and figured out what gear worked and what didn't when it came to carrying around a carbine all day.  Some students chose to wear a bunch of "cool guy" gear, but for this event a spare mag in a back pocket or simple belt-mounted mag pouch works fine.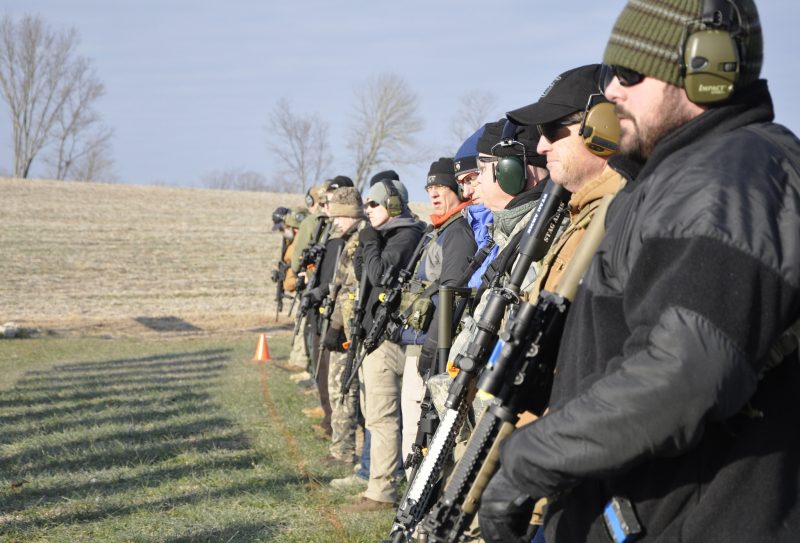 The shooting started close and shooters learned the balance between speed and accuracy at different ranges from 3 to 25 yards.  We also worked in magazine changes.  The morning also allowed confirmation of zeroes for those who did not already have an appropriate battlesight zero.
Luckily, despite the weather, pizza was available along with propane heaters to allow everyone to warm up a bit.  The range owner was kind enough to keep the hot coffee flowing and volunteers brought plenty of baked goods.
In the afternoon, the use of cover and concealment was introduced.  Students leveraged plywood obstacles while shooting IDPA-style targets at closer ranges as well as steel out at 100 and 200 yards.  Then, it was time to unleash our secret awesome training aid…  At Bedford, we have a motorized zip line that will send an IDPA target hurtling at you at high speed.
Finally, at the end of the day, students got a chance to tackle our special The Bedford Contingent Carbine Qualifier skills test.  This consists of an advanced AR-Challenge style stage involving shooting moving targets, moving to cover, reloads, multiple close range targets and steel out to 200 yards — all under a minute.  What a workout!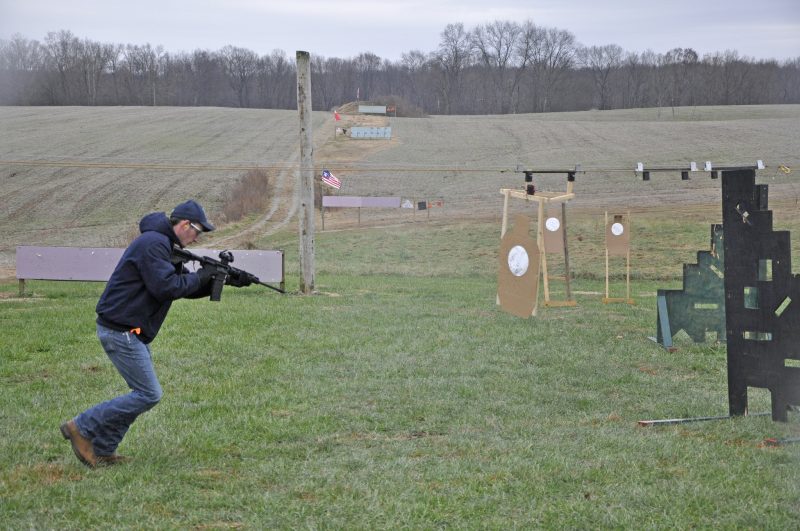 On Sunday a number of drills at 3, 7, and 12 yards along with magazine changes and scanning were used to warm up.  Once warmed up, we mixed things up with the mover.  This time, instead of going straight at the shooters, it ran parallel to the line.  This gave students a chance to see how engaging targets with lateral motion works.  Everyone got another swing at the bat on our qualifier before lunch.
The afternoon allowed a number of drills to include shooting out 300 yards on steel.
One shooter provided an AAR after the event that sums it up:
This course is perfect for anyone with a basic rifle understanding/proficiency on up to the most proficient shooter. There's something for everyone. If you are even remotely considering a carbine class you owe it to yourself to sign up for this one. You won't be disappointed.

Please check out our upcoming Carbine 223 offerings and find a carbine clinic near you!