Amazon is the largest online retailer in the world; most of us have purchased something (if not 100's of things) from Amazon. You may have noticed that some of the products in the Revere's Riders online store redirect you to Amazon for purchase as well.
What you may not know is that you can use AmazonSmile to support Revere's Riders. According to "About AmazonSmile":
AmazonSmile is a simple and automatic way for you to support your favorite charitable organization every time you shop, at no cost to you. When you shop at smile.amazon.com, you'll find the exact same low prices, vast selection and convenient shopping experience as Amazon.com, with the added bonus that Amazon will donate a portion of the purchase price to your favorite charitable organization. You can choose from over one million organizations to support.
Revere's Riders is one of the eligible non-profit organizations that you can donate to via AmazonSmile.
As an example, I have been using AmazonSmile for most of my Amazon purchases for a couple of years (I occasionally go to amazon.com instead of smile.amazon.com). Below is a summary of my AmazonSmile donations: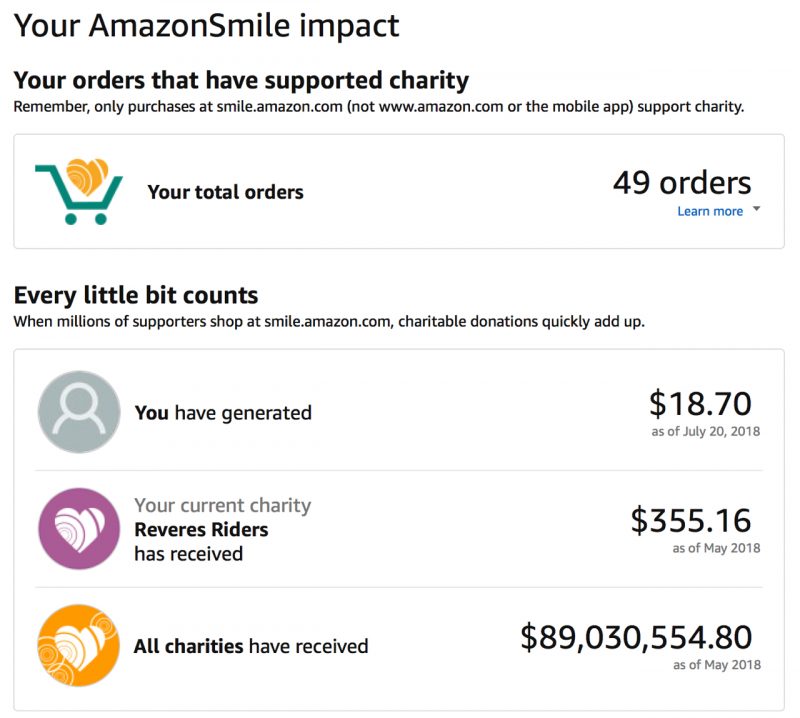 While $18.70 may not seem like a lot, when dozens or even hundreds of people combine to support a given charity it starts to add up to significant amounts of money (like $355.16 total AmazonSmile donations to Revere's Riders).
If you are a regular user of Amazon and don't already use AmazonSmile, give it a try and specify "Revere's Riders" as your charitable organization!